The study has been reviewed by the King's College Research Ethics Committee (Ref: HR/DP-20/21-21977).
OCD Research
Research plays a significant role in helping us better understand Obsessive-Compulsive Disorder and to further develop evidence-based treatments available for people living with OCD.
Whenever we are approached by a researcher we carry out our own due diligence, we have a duty to you our supporters, to protect your rights, dignity, well-being, valuable time and, of course safety. We ask questions of the research project and review thoroughly before we promote the research on our website. OCD-UK believes this policy on being selective in the research we promote ensures our supporters can have confidence in participation of this research listed below.
You can read our full policy on research promotion here.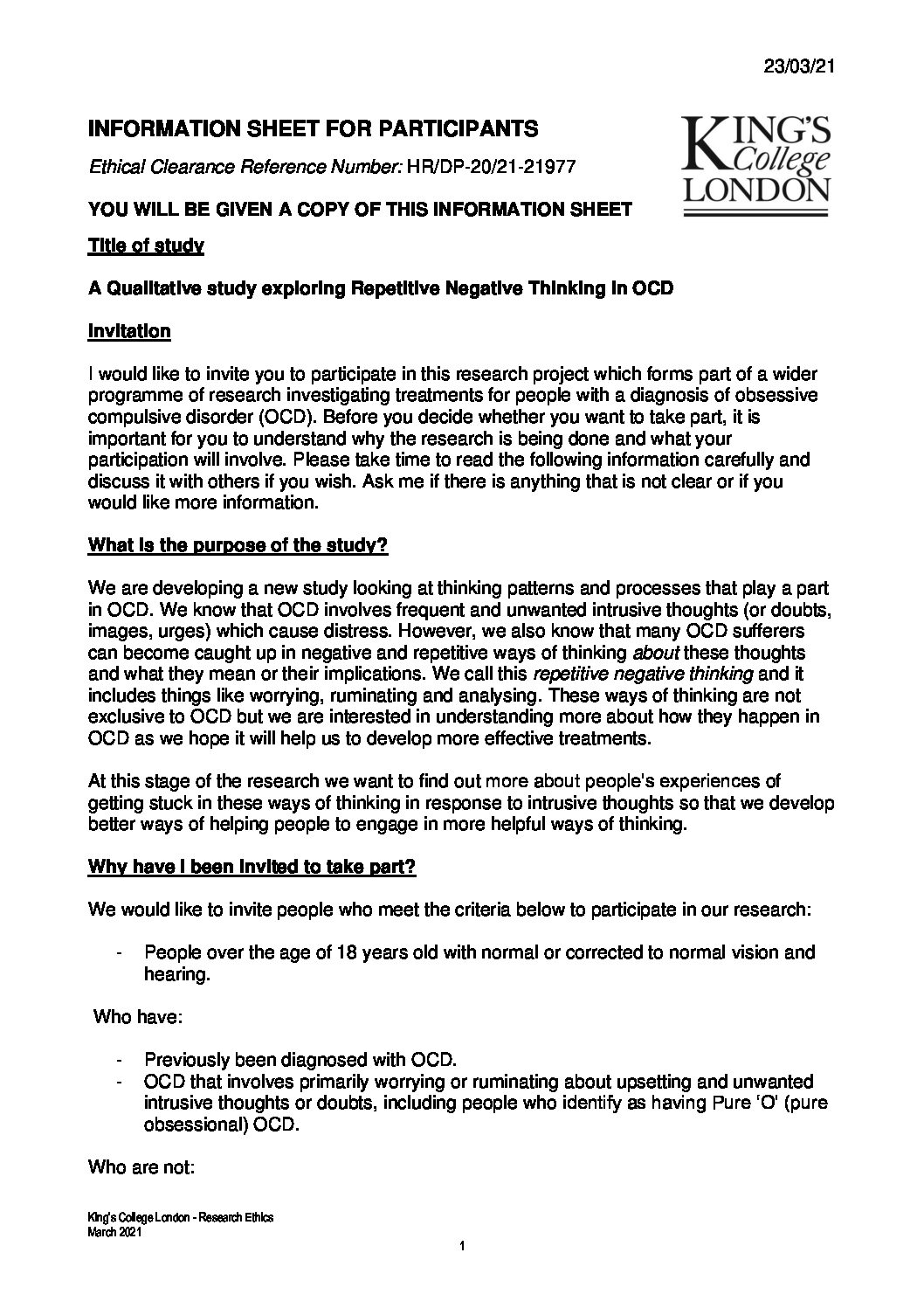 A study looking at experiences of Repetitive Negative Thinking in OCD.
Summary
Do you find yourself going over and over the same intrusive thoughts and doubts in your mind? We would like to invite you to participate in our research investigating the nature of repetitive negative thinking in obsessive compulsive disorder (OCD). This includes things like worrying or ruminating about intrusive thoughts or doubts, which makes it really difficult to let go of them. This will be used to develop an intervention to try to improve the effectiveness of cognitive behavioural treatment for people with OCD.
What is the purpose of the study?
This research is being conducted for an MSc project at King's College London. We are developing a new study looking at thinking patterns and processes that play a part in OCD. We know that OCD involves frequent and unwanted intrusive thoughts (or doubts, images, urges) which cause distress. However, we also know that many OCD sufferers can become caught up in negative and repetitive ways of thinking about these thoughts and what they mean or their implications. We call this repetitive negative thinking and it includes things like worrying, ruminating and analysing. These ways of thinking are not exclusive to OCD but we are interested in understanding more about how they happen in OCD as we hope it will help us to develop more effective treatments.
What will you be asked to do?
A 60-minute interview with a member of our research team either face-to-face or on the telephone. The interview will include some brief standardised questionnaires which will ask about worry and repetitive thinking in relation to your OCD. We will then ask you more detailed questions about how and when these thoughts occur. You can take part if you have been diagnosed with OCD and your OCD includes worrying or ruminating about unwanted intrusive thoughts or doubts. You are over the age of 18 and you are fluent in English.
A £12 Amazon Gift Vouchers will be offered to those who take part.
For further details please download and review the research participant information sheet below or contact Clare Gallagher at Clare.gallagher@kcl.ac.uk
Download the research participant information sheet (200 kb)