How Past and Present Experiences Affect Your Reactions to Personal Possessions
OCD Research
Research plays a significant role in helping us better understand Obsessive-Compulsive Disorder and to further develop evidence-based treatments available for people living with OCD.
Whenever we are approached by a researcher we carry out our own due diligence, we have a duty to you our supporters, to protect your rights, dignity, well-being, valuable time and, of course safety. We ask questions of the research project and review thoroughly before we promote the research on our website. OCD-UK believes this policy on being selective in the research we promote ensures our supporters can have confidence in participation of this research listed below.
You can read our full policy on research promotion here.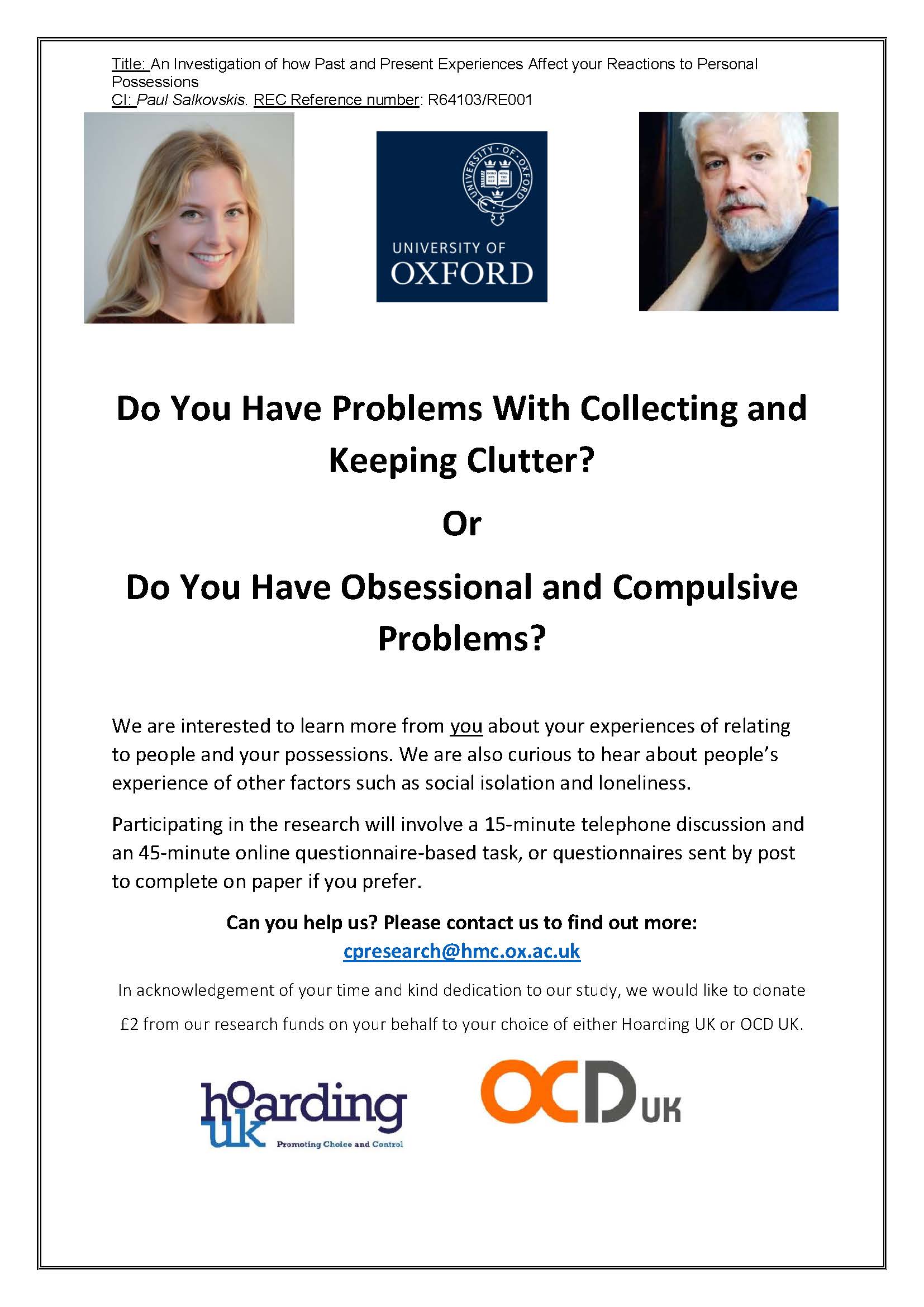 An Investigation of How Past and Present Experiences Affect Your Reactions to Personal Possessions
Summary
Jessica is completing an online study looking at how past experiences link up with symptoms of OCD and other issues like social isolation and loneliness. The researchers are also interested in how these experiences may be similar (or different!) to those with a hoarding problem. The online, confidential questionnaire is preceded by a brief 10 minute phone call where Jessica will introduce herself, the aims of the study and go through some OCD and/or Hoarding disorder screening questions.
What is the purpose of the study?
For some people, it is possible that the way they related to people and things when they were younger has an impact on how they relate to people and things now. We also want your help with understanding how your early relationships affect your present friendships and how you see both people and possessions. To do this we need to find out about how you respond at the moment to other people and how you recall your past relationships. We are interested in how your friendships and other relationships work, including issues like loneliness and social support.
We are keen to hear from a range of people including those who have no current mental health problems, those with have obsessional problems and those who have hoarding difficulties.
For further details please download and review the research participant information sheet below or contact Jessica at cpresearch@hmc.ox.ac.uk
Download the research participant information sheet (261 kb)
This study has been reviewed, and approved, by the University of Oxford Central University Research Ethics Committee (ref: R64103/RE001).