Children with OCD: Identifying Acceptable Support Strategies for Parents (CO-ASSIST)
OCD Research
Research plays a significant role in helping us better understand Obsessive-Compulsive Disorder and to further develop evidence-based treatments available for people living with OCD.
Whenever we are approached by a researcher we carry out our own due diligence, we have a duty to you our supporters, to protect your rights, dignity, well-being, valuable time and, of course safety. We ask questions of the research project and review thoroughly before we promote the research on our website. OCD-UK believes this policy on being selective in the research we promote ensures our supporters can have confidence in participation of this research listed below.
You can read our full policy on research promotion here.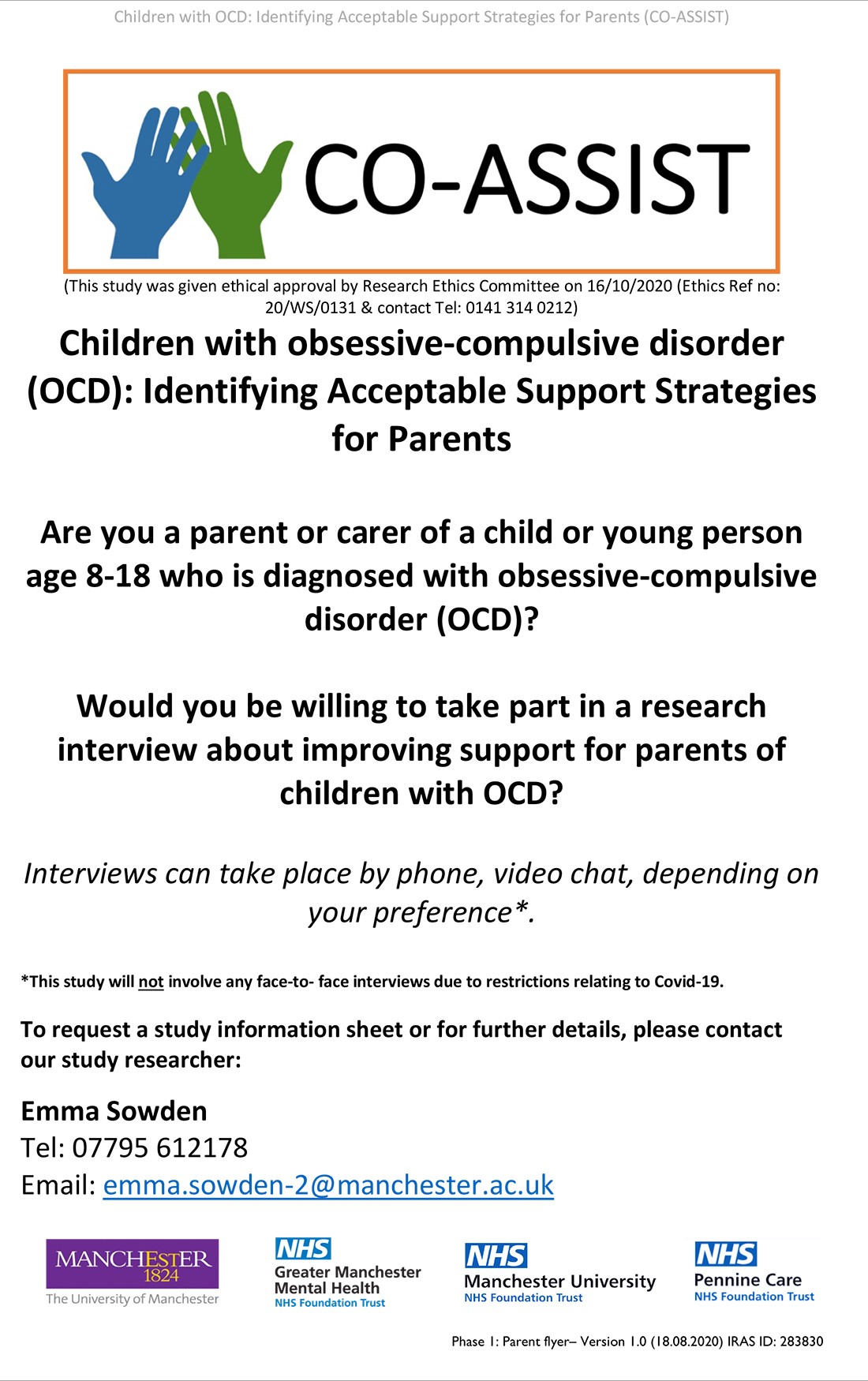 Children with OCD: Identifying Acceptable Support Strategies for Parents (CO-ASSIST)
Are you a parent or carer of a child or young person age 8-18 who is diagnosed with obsessive-compulsive disorder (OCD)?

Summary
We would like to invite parents and carers of children with obsessive-compulsive disorder to take part in a research study, which aims to understand how we can better support parents and carers (of children with OCD). This study is organised and sponsored by the University of Manchester. The funder is the National Institute for Health Research.
If you decide to take part, we would like to invite you to take part in an interview where you will be given the opportunity to share your views and opinions. This can take place over the phone or video chat using Zoom or Microsoft Teams at a place that is convenient for you. The interview will last approximately 60 minutes, and you may end the conversation at any point.
What is the purpose of the study?
Obsessive-compulsive disorder (OCD) frequently begins in childhood or adolescence. Parents and carers supporting a child or young person with OCD often find their support role difficult.  OCD charities and parent/carers, tell us that despite parents'/carers' important role, they are often given little or no support. There is currently little evidence about how we can effectively support parents and carers of children with OCD. We want to speak to 25-30 parents/carers to understand the difficulties they face in their role and the ways we might go about better supporting them in the future.
The project research team delivered a short presentation about this research project during our 2020 virtual OCD conference. You can watch the recording of this on our conference page here.
Further information
For further details please download and review the full research participant information sheet below or contact Emma (the project researcher) at emma.sowden-2@manchester.ac.uk or by calling 07795 612178.
Download the full research information sheet (825 kb)
This study has been reviewed by an independent group of people, called the Research Ethics Committee, to protect your safety, rights, well-being and dignity. The study has been given a favourable opinion by West of Scotland Research Ethics Committee 3 (Ref: 20/WS/0131).