Research Participation Request: Are you bothered by sexual thoughts and images?
OCD Research
Research plays a significant role in helping us better understand Obsessive-Compulsive Disorder and to further develop evidence-based treatments available for people living with OCD.
Whenever we are approached by a researcher we carry out our own due diligence, we have a duty to you our supporters, to protect your rights, dignity, well-being, valuable time and, of course safety. We ask questions of the research project and review thoroughly before we promote the research on our website. OCD-UK believes this policy on being selective in the research we promote ensures our supporters can have confidence in participation of this research listed below.
You can read our full policy on research promotion here.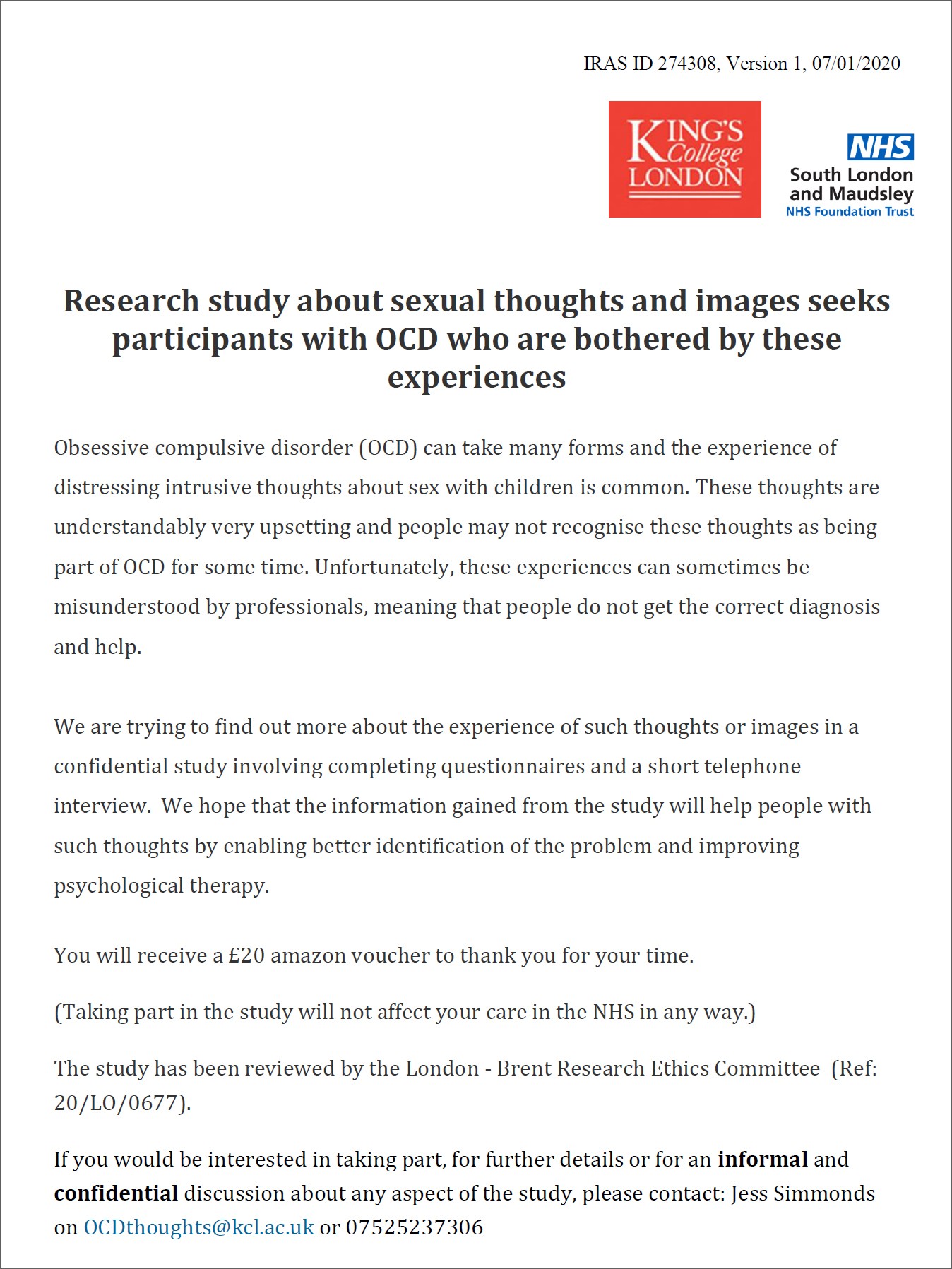 Research study about sexual thoughts and images seeks participants with OCD who are bothered by these experiences
Summary
Obsessive compulsive disorder (OCD) can take many forms and the experience of distressing intrusive thoughts about sex with children is common. These thoughts are understandably very upsetting and people may not recognise these thoughts as being part of OCD for some time. Unfortunately, these experiences can sometimes be misunderstood by professionals, meaning that people do not get the correct diagnosis and help.
What is the purpose of the study?
We are trying to find out more about the experience of such thoughts or images in a confidential study involving completing questionnaires and a short telephone interview. We hope that the information gained from the study will help people with such thoughts by enabling better identification of the problem and improving psychological therapy.
You will receive a £20 amazon voucher to thank you for your time. (Taking part in the study will not affect your care in the NHS in any way.)
For further details please download and review the research participant information sheet below or contact Jess Simmonds at OCDthoughts@kcl.ac.uk
Download the research participant information sheet (130 kb)
The study has been reviewed by the London – Brent Research Ethics Committee (Ref: 20/LO/0677).