This study has been reviewed, and approved, by University of Oxford, Central University Research Ethics Committee (CUREC) board (ref: R79097/RE001).
OCD Research
Research plays a significant role in helping us better understand Obsessive-Compulsive Disorder and to further develop evidence-based treatments available for people living with OCD.
Whenever we are approached by a researcher we carry out our own due diligence, we have a duty to you our supporters, to protect your rights, dignity, well-being, valuable time and, of course safety. We ask questions of the research project and review thoroughly before we promote the research on our website. OCD-UK believes this policy on being selective in the research we promote ensures our supporters can have confidence in participation of this research listed below.
You can read our full policy on research promotion here.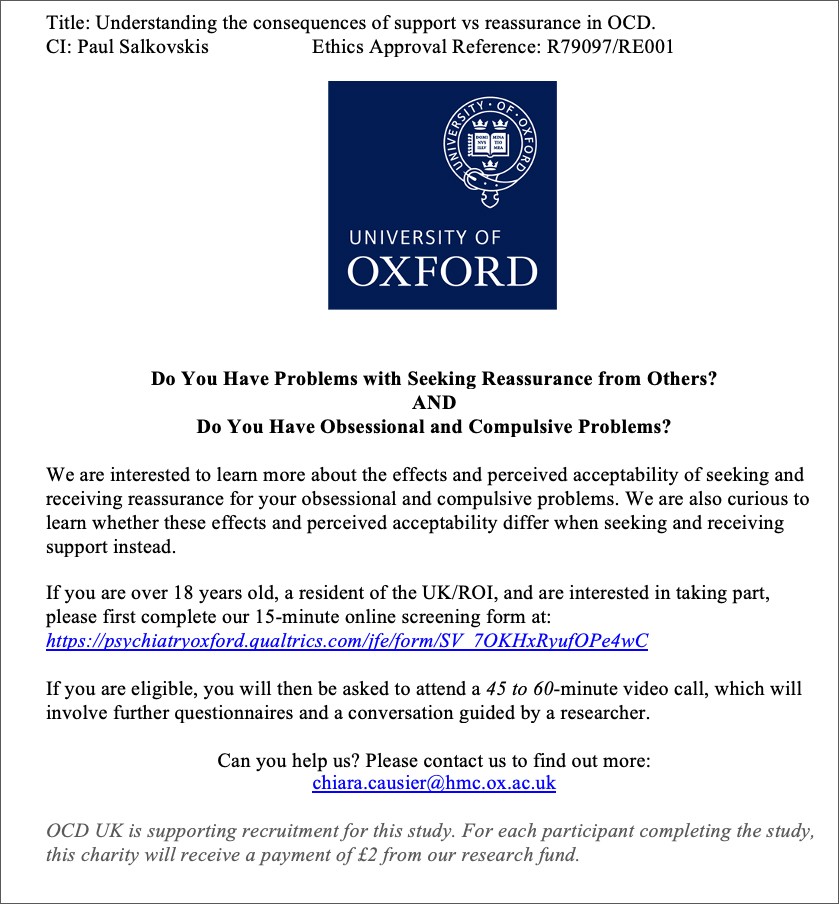 Understanding the consequences of support vs reassurance in OCD
Summary
We are looking for people aged 18+ years old, are a resident of the UK/ROI, self-identify as having obsessive-compulsive disorder (OCD) and seek reassurance for your obsessions.
What is the purpose of the study?
The purpose of this research study is to find out more about how people experience seeking and receiving reassurance from others for OCD symptoms, and whether it differs to people's experience of seeking and receiving support from others for OCD symptoms instead.
What will participants be asked to do?
If you agree to take part in this study, you will be asked to complete a screening questionnaire which will involve 6 screening questions, and 2 questionnaires about your OCD symptoms and reassurance-seeking behaviours. This should take about 15 minutes. Please note, if you are eligible for the study, you will then be invited to take part in a 45 to 60-minute video call on Microsoft Teams at a mutually convenient time. This will involve you speaking with the researcher about an obsession you commonly seek reassurance and support for, listening to two scenarios based on that obsession, and answering some online questionnaires based on these scenarios. You will also complete a calming exercise at two points during the call.
How to take part.
For more information or to express your interest please complete this 15-mnute online screening form by clicking here.  If you have any questions about the study after reading this information, please contact lead researcher Chiara Causier by emailing chiara.causier@hmc.ox.ac.uk