Welcome to OCD Awareness Week and OCDtober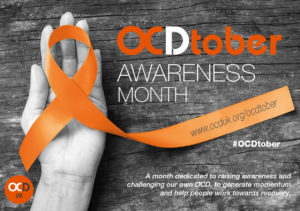 Today marks the start of OCD Awareness Week 2019. For every single person with lived experience of Obsessive-Compulsive Disorder awareness week will have a different meaning. Some will want to raise awareness for very personal reasons, while others might want to:
Highlight the failure of far too many mental health services to provide adequate OCD treatment
Encourage people to think again when using the phrase 'oh, I'm a little bit OCD'
Discourage flippant throw away remarks about OCD that trivialise the condition
Challenge widely held myths and misconceptions surrounding OCD
Highlight various manifestations of the condition to help others recognise their suffering is because of Obsessive-Compulsive Disorder
It is for these reasons and others why OCD-UK continue to promote and support OCD Awareness Week where our resources allow.  This year we have spent over £500 in the printing and distribution of handouts and posters, some of which challenge the unhelpful myths that are still commonly held within the wider community.
But as a charity we know that you expect and demand we do this not just one week a year, but all year round. We do, we are and we want to do even more!   So we have made sure that all handouts and posters are not dated and therefore can be used all through the year.  We're also encouraging OCD awareness during the entire month of October with OCDtober.
The work we have planned for this OCDtober we hope will come to fruition in the next 12 months, hopefully leading to significant life changing work during OCDtober 2020.
We also know that simply talking and raising awareness is not enough. We hear all too often that when sufferers reach out for help, that help is either not forthcoming or when help is offered, all too often it's the wrong help or of poor quality.
So, much like CBT is not just a talking therapy, it's a doing therapy, for OCD-UK we want OCDtober to be a doing project, with the talking leading to improved services.
OCD Awareness Week is a global effort to raise awareness and understanding about OCD, with the goal of educating people and working towards removing misunderstanding and stigma. Launched in 2009 by the International OCD Foundation (a US based charity), OCD Awareness Week is now promoted by a number of organisations across the world, and OCD-UK are privileged to be the lead organisation here in the UK since 2010.
So what will we be doing this OCD Awareness Week and throughout OCDtober?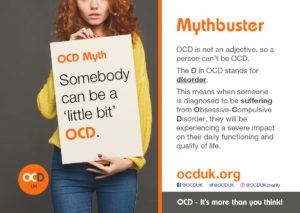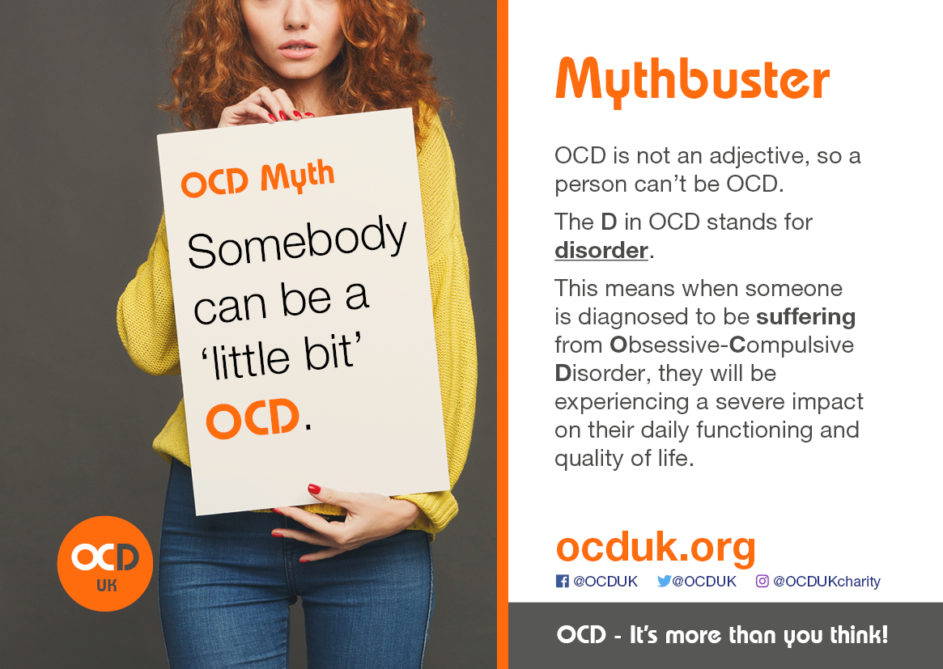 We will share content each day of OCD Awareness Week focusing on many of the common OCD myths and misconceptions. We will also be sharing content from our amazing OCD-UK Young Ambassadors.
Since we have been inundated with your requests to get involved as OCD-UK ambassadors, this month we are launching our OCD Ambassador project (for all ages). This is not just a project for October, but will  offer support and training to anybody wanting to talk about OCD in their local community throughout the year. By October 2020 we hope that the map will be full of marker pins showing the many locations of talks across the UK!
Starting this week and throughout OCDtober we will also be writing to every single Mental Health Trust in England and services across Wales, asking them to explain how they went about implementing the following recommendation from the NICE guidelines for the treatment of OCD, published in 2005. The NICE guidelines recommended:
Each PCT, mental healthcare trust and children's trust that provides mental health services should have access to a specialist obsessive-compulsive disorder (OCD)/body dysmorphic disorder (BDD) multidisciplinary team offering age-appropriate care.
Due to the NICE guidelines not covering Scotland or Northern Ireland, a slightly edited letter will be sent to health boards in those countries later in the year and through winter 2020.
We know that for the majority of mental health services, those recommendations were never fully implemented, so subject to responses, we will be challenging all services to start working towards implementation through 2020, culminating in every single mental health service hosting an OCD training day for their staff at some point during OCDtober 2020 and every subsequent OCDtober (and of course at other points during the year too!).
So whatever your reason for getting involved in OCD Awareness Week, thank you and the work we do today, may make a difference tomorrow.
Wishing you all good mental health.
Ashley Fulwood
OCD-UK Chief Executive and someone currently having challenging times because of OCD.
PLEASE NOTE: We have invested in a series of posters and handouts which we can send to you if you're able to distribute in your workplace, school or uni. Just email us at office@ocduk.org to let us know how many you want and your postal address.  Remember, these are not just for October!