NEWS: National Institute for Health and Care Excellence (NICE) say no to Deep Brain Stimulation.
DBS for OCD Not Recommended
Earlier today (28th April 2021) NICE published its interventional procedures guidance (IPG693) for the use of Deep Brain Stimulation (DBS) in the treatment of Obsessive-Compulsive Disorder (OCD).  Their recommendation after reviewing the evidence was that the safety and efficacy of DBS is inadequate in quality and quantity and therefore was not recommended as a treatment for OCD.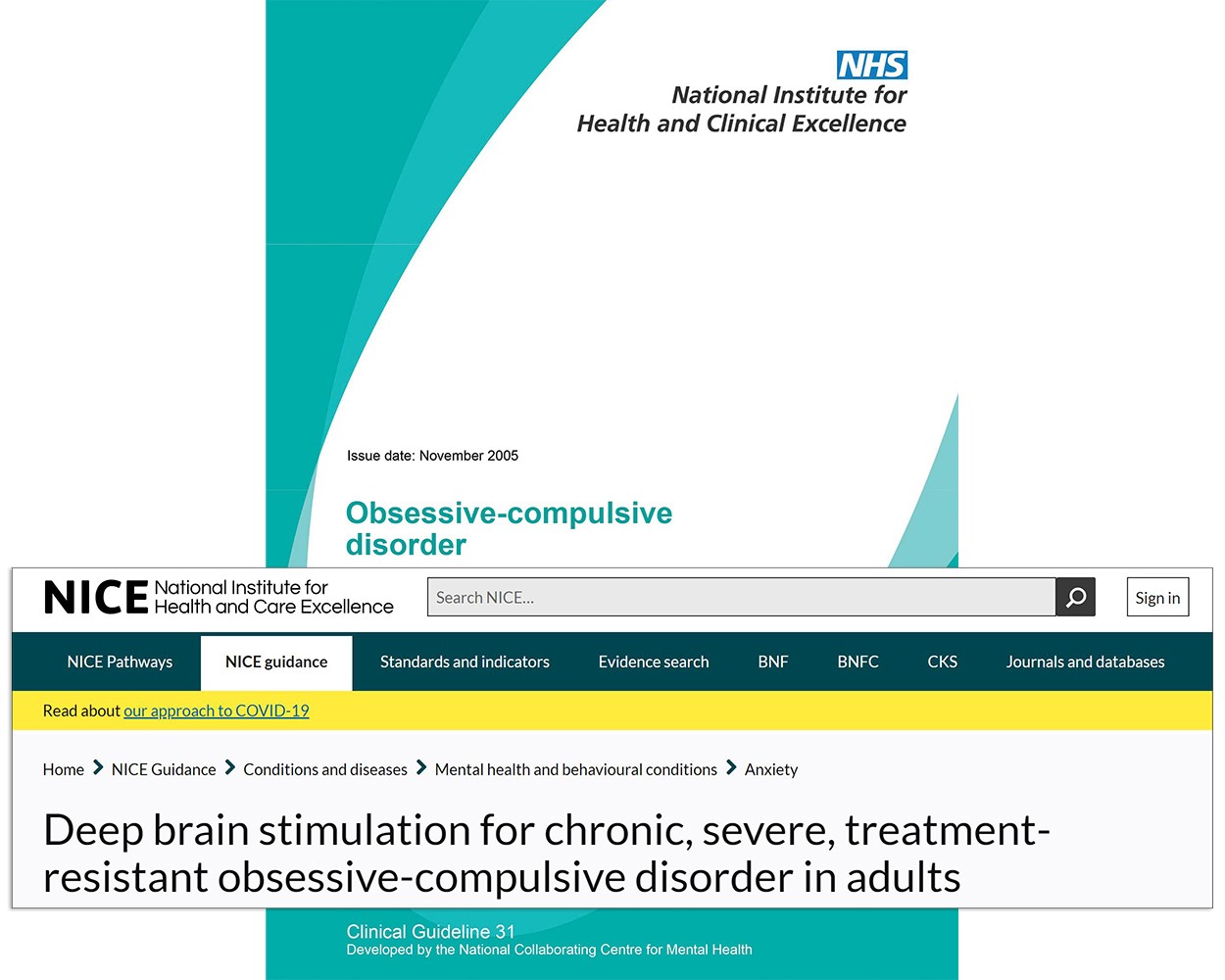 No evidence for DBS
This was the full text from NICE's recommendations:
1.1   Evidence on the safety and efficacy of deep brain stimulation for chronic, severe, treatment-resistant obsessive-compulsive disorder (OCD) in adults is inadequate in quality and quantity. Therefore, this procedure should only be used in the context of research.
1.2   Patient selection should be done by a multidisciplinary team experienced in managing OCD. It should include experts in psychiatry, neuropsychiatry, clinical psychology, neurology, neurosurgery and deep brain stimulation.
1.3   The procedure should only be done in centres with expertise in deep brain stimulation and experience in managing OCD.
1.4   Further research should primarily be randomised controlled trials. It should clearly define the area of the brain that should be targeted in this procedure. It should also describe details of patient selection, comorbidities, and use of adjunctive therapies. Outcomes should include reduction in OCD symptoms, improvement in quality of life and any neuropsychiatric and cognitive effects.
OCD-UK Comment
OCD-UK welcome NICE's interventional guidance placing emphasis on both the lack of and the poor quality of existing research data around the use of Deep Brain Stimulation for OCD. We also welcomed the fact NICE also highlighted the lack of evidence on the overall safety of the procedure, concerns OCD-UK have had about DBS since our own inception back in 2004.   Whilst we remain open to new treatment options for people suffering because of OCD, we must remain committed to ensuring those treatment options are safe, appropriate and ethical, both for treatment and research.
The National Institute for Health and Care Excellence (NICE) provides national guidance and advice to improve health and social care across the NHS. The interventional procedures guidance looks at procedures used for diagnosis or treatment. It considers if they are safe and work well enough for wider use in the NHS.
What is DBS:
Deep brain stimulation for OCD is done under general or local anaesthesia. A stereotactic frame may be used. MRI or CT imaging, or both, are used to identify the target area of the brain (commonly, the anterior limb of the internal capsule).
Two small holes are drilled in the skull and electrodes are implanted into the target area. The electrodes are connected to an implantable neurostimulator by leads, which are tunnelled under the skin of the neck and scalp. The neurostimulator is surgically placed into a subcutaneous pocket below the clavicle.
Postoperative imaging is usually used to confirm the location of the electrodes. A handheld remote-control programming unit is used to turn the neurostimulator on or off and adjust stimulation parameters to find the right level of stimulation.
Source: NICE