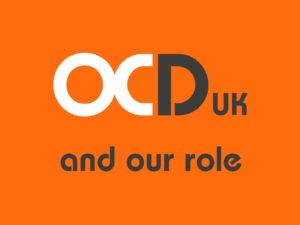 Many of those that contact OCD-UK do so for advice on every aspect of treatment, from evidence based therapies like CBT, to the strangest of non-evidence based treatments. So it may be helpful if we explain how the charity operates with our recommendations for overcoming OCD.
We will primarily, although not exclusively, base most of our recommendations on the best NHS evidence we have access to and also from service-user feedback across our various platforms, with service-user feedback being especially helpful and relevant where lesser known treatments or private therapists are used.
Research into the treatment of OCD is ongoing and will constantly change how we view treatment approaches to OCD. Equally the way the NHS provides treatment is another process that is forever changing, which is why we will evolve and frequently revise our approach to remain up-to-date with research and treatment developments.
Underpinning the advice we offer is the charity's ethos  of positivity, to illuminate a path for sufferers that offers them an opportunity to work towards recovery, whatever recovery means for them.
OCD-UK, working tirelessly for those affected by OCD to bring about positive change.
Some of those affected by OCD that are reading this page may have been told at some point by a health professional, that the best a person can ever do is to learn to manage OCD, well we're here to tell you that need not be the case!
Whilst we can't guarantee someone will overcome OCD, the fact is many people can and do overcome OCD.  The danger of accepting the idea that the best we can hope for is 'managing OCD', is that it becomes too easy to stop working and fighting for recovery.
A brilliant footballing quote that illustrates the importance of challenging and fighting our OCD comes from the late Brian Clough, who once said "the best form of defence is attack." What is true in football is also true in OCD, we must adopt a mentality of learning to challenge and attack OCD if we want to reach recovery.
From our own personal experiences, we know that at times Obsessive-Compulsive Disorder is a chronic and disabling illness, sometimes leaving us completely debilitated, sometimes for months or years at a time. But equally what we also know, is that even for those with the most severe OCD, with the right support, OCD can be treated.
How treatable is a question that divides opinion, however even people with chronic OCD can still make sufficient recovery towards their chosen target. Our own chair Catherine Mills is one such example who recently returned to work after many years of being unable to work because of chronic OCD. By her own admission OCD remains a big part of Catherine's life, but her achievement is an inspiration, allowing us to see what sufficient recovery against OCD can enable us to do.
We also have other OCD-UK trustees and volunteers who describe themselves as completely completely recovered from OCD, and our now living life completelty OCD free.
For some people it is possible to achieve complete recovery from OCD, which some people choose to call 'cure', a word not everybody likes to us. But, remember the definition for 'cure' is 'to restore health' and that is very much achievable when it comes to overcoming OCD.
Cure – To restore health.Oxford English Dictionary
Other people, they prefer to use the word 'recovery' when talking about overcoming OCD, and throughout our website we will focus on the word recovery too. But what is recovery?
What to read next:
---
---