Update: 30th July
With regret we have taken the difficult decision to postpone this year's conference until 2021. Whilst we know that our conference offers so much to attendees, with the ongoing pandemic difficulties across the country and Europe, we feel hosting our conference in October would still be too soon and even attending would lead to anxiety for many of us. Our conference will return in 2021 (pandemic allowing) and of course we will be going to Chester. Please do continue to use the notification signup form below to be notified of our new date.
But…
We have an exciting alternative for 2020! Please visit our conference page later today for news!
Original Post: 26th March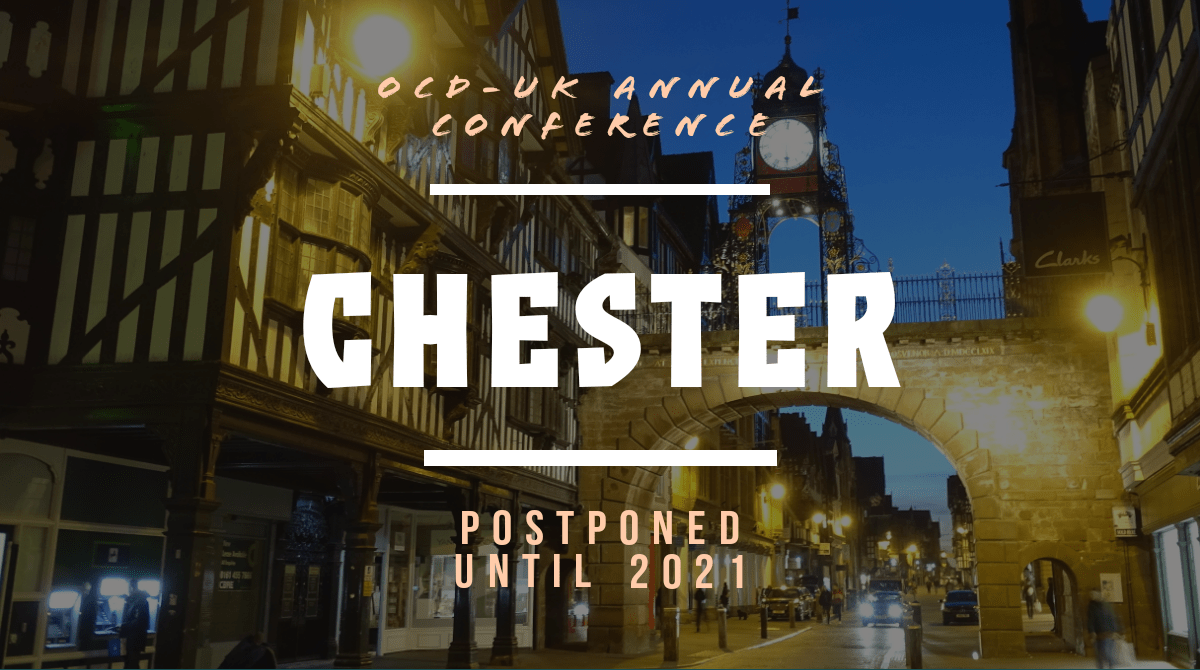 With everything that is going on right now, some may find this announcement a little strange timing wise, and we did deliberate over the posting of this for some time.
However, we know that many of the people we serve look to us for help at times of crisis (for those of us with OCD, everyday feels like our own personal crisis long before lockdown) and part of our job is to offer that help and even more importantly, HOPE.
Therefore we are making tentative plans to host our annual conference in Chester on the North Wales/England border on Saturday 17th October 2020.
Until we know it is absolutely safe for people to gather as a group again we will not be opening for ticketing bookings, but we know from some of our conversations that simply having a date to look forward to will prove comforting for many of our conference guests.
At any time hearing from OCD specialists can be so empowering, and that is most likely going to be even more invaluable this year than ever before.  We hope that the OCD specialists that we work with, existing friends and new, will make themselves available for the OCD-UK conference to ensure we can give delegates access to some of the very best information and support available.
We will also do our part and ensure that we can make at least 50 tickets available for those on low income either complimentary or at a vastly reduced nominal £10-15 (to help cover refreshment costs).
We hope the entire weekend will become a celebration of life and freedom which we have all taken for granted and right now seems less positive, we hope that you can join us!
Once we know it is safe to do so we will open bookings and very much hope that many of you will be able to join us for a day of mutual understanding, support and hope that will promote belief that life free from OCD is possible.