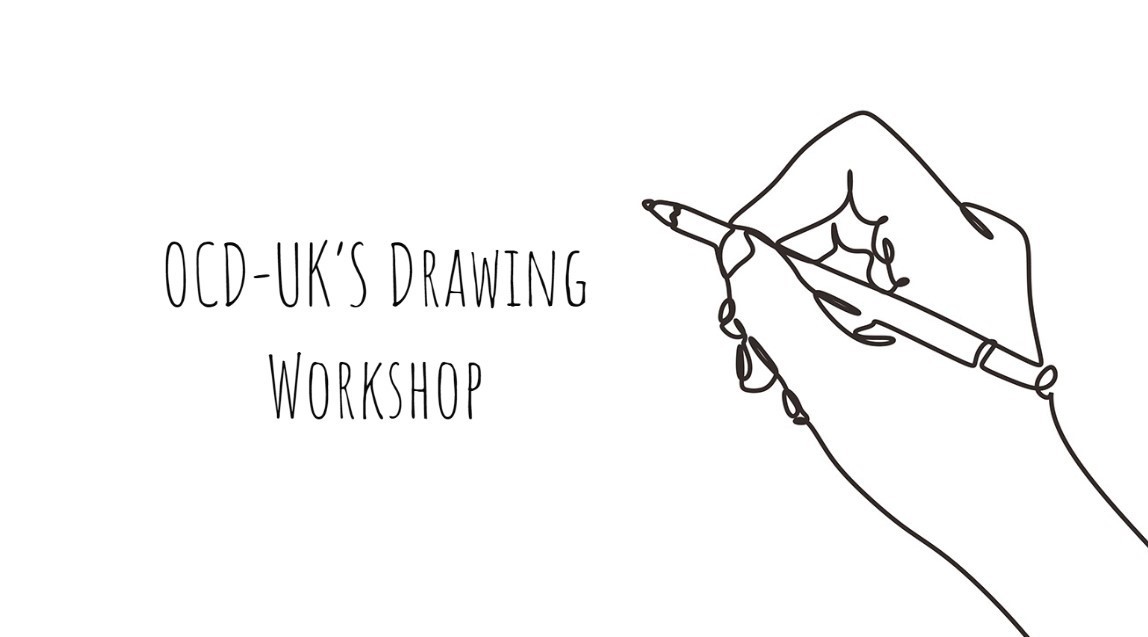 ---
We have decided to make drawing sessions a regular occurrence, to give those who enjoy creativity a place to express themselves and connect with other people who have OCD. And for those who are not used to doing anything creative, don't let that stop you from getting involved, do come along and give it a go! There is no right or wrong with creativity. Any questions? Email
zoe@ocduk.org
---
About this workshop
During our virtual conference last year, we hosted a session called 'Drawing OCD'. The idea was to bring people together who have lived experience of OCD, to use creativity to express themselves and their experiences with OCD. We were overwhelmed with positive feedback about the session, so we decided to make sure it wasn't the only time we made this opportunity available to our service users. We are going to host drawing workshops every few months throughout the year.
Who can attend?
Anyone with lived experience of OCD, over the age of 18. If you are under 18 and are interested in joining a drawing workshop, don't worry! It doesn't mean you won't get the opportunity to join a workshop, we will host a separate one for under 18 years olds who are interested in being involved.
What do we draw?
Anything! Some people sometimes feel a bit anxious about what to draw or worry that they aren't used to drawing and rarely do anything creative. You don't have to be Vincent Van Gough to join these sessions, there are no rules with creativity, and it is just a relaxed, informal meeting to draw and chat.
In previous sessions some people have drawn how OCD makes them feel, some have joined who consider themselves to be in recovery and draw how OCD used to make them feel, and how they feel now. Some like to compare OCD to a feeling, a weather, a person, or a place – and draw that. We have also had people come along and just doodle, because that makes them feel better when they are struggling with OCD. There really are no rules! (You can use any medium you feel comfortable with, for example watercolours, paints, pencils, iPad...) For some inspiration, feel free to take a look at some of the drawings which were created in previous drawing sessions at the bottom of this page.
Do I have to show people my drawing?
Nope! Not if you don't wish to. Some people like to show the rest of the group what they have created at the end. But there is absolutely no pressure to do this, it is a personal choice. If you wanted to share your work after, some people send us their work to share on the website and social media. Again, there is no pressure with this and it is a personal choice to each individual.
What should I expect from the session?
The host (Zoe) and co-host will begin the session with a conversation starter, and people can begin drawing whenever they are ready. Anyone is welcome to join in and chat with us as the drawing begins, but if you don't feel comfortable to talk that is ok too. Some people prefer to use the chat box instead of talking over the microphone.
Is this a support group?
Although we may talk about OCD, what makes us feel better when we are struggling and other various topics, this is not a support group. This workshop is to use creativity to express OCD, whilst recognising who you are aside from OCD. You are not your OCD, so it can be helpful to meet others with OCD and get to know them as people. We sometimes chat about what films we watch when we are struggling, TV series, music, and other topics.
Our online groups manager, Kirstie, runs the support groups for the charity and she delivers them brilliantly. If you would like more information on the support groups and how to sign up, please visit here.
When is the next workshop taking place?
The next drawing workshop will take place at some stage in July. We will update this page and our social media platforms once we are open for registration and a date is set in place.
Visit our drawing page, specifically dedicated to the drawings which have been created during some of our previous workshops! Click here to visit the page...