Hannah - Making a Difference
I remember this being a very frightening and lonely time as I didn't know what was 'wrong' with me.Hannah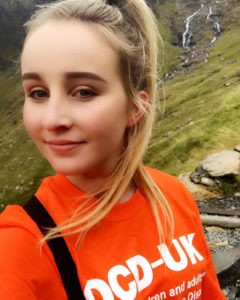 Hi, my name is Hannah, I'm currently 19 and have suffered with OCD since I was about 14. From what I recall, what triggered my OCD was a citizenship lesson when I was in year 9 at school. It was about sexually transmitted infections, specifically HIV. I remember feeling an immense amount of responsibility on keeping everyone I know well as I thought I would make someone ill and it would be my fault. I remember this being a very frightening and lonely time as I didn't know what was 'wrong' with me and thought I was the only one who struggled with these type of thought processes.
As I've gotten older, I've tried to manage this disorder by myself all through my GCSE's, A levels and now a university degree. I only realised I had OCD when I was about 17 and studying psychology as OCD, depression and phobias were part of the course. This is when I decided it was the time to not only start telling people closest to me what I had but I also wanted to help other people as I couldn't bear the thought of others going through what I did. Because of this, I then contacted OCD-UK explaining how I wanted to do some fundraising and in August 2018 I climbed Snowdon and managed to raise over £300. For me this was very rewarding as this not only raised awareness and money for the charity it was also a challenge for myself as I was exposed to situations I wouldn't usually have put myself in.
I was inspired to push myself even further to assist with other young people who have OCD.Hannah
After this, I was inspired to push myself even further to assist with other young people who have OCD or know someone with OCD or to just raise more awareness. I became an OCD-UK Young Ambassador and have achieved so many amazing things by being a part of the project; I officially opened the new OCD-UK office in Derbyshire alongside a local MP, I have been interviewed about my OCD on BBC Radio 1 and BBC Radio 1Xtra, I attended the OCD-UK national conference where I met other young people with OCD from across the UK and I have helped to redesign a young people's guide to OCD!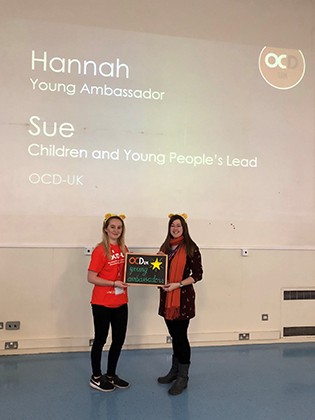 Locally, I contacted the head teacher of the high school I studied at to see if there was anything I could do. We had a meeting and decided the best way to get information across was to do an assembly. I also believed it was appropriate to display this assembly to year 9's as this was when I had troubles, and also to deliver it in on Children in Need day in November which is very fitting as the young ambassador project is funded by BBC's Children in Need. As I was quite nervous I asked if Sue (the OCD-UK Children and Young People's Lead) could assist me in my talk which she kindly did and on the day we put on our Pudsey ears and shared our own experiences and explained what OCD is to 180 children. Thankfully they were all very engaged and hopefully took something away from it.
Overall I have been very lucky to have had the opportunity to share my experiences with so many others even if it only helped one other young person that's an achievement in my book and I wish to continue to helping as many young people as I can and maybe even make a difference in their lives.

Please complete our short, anonymous feedback form about Hannah's post