Interview with Laura Greenway, Performance Artist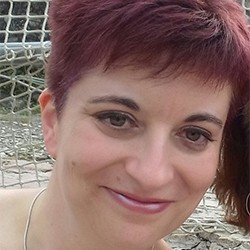 Interview by:
Claire Goldenberg
Sussex
If 26 year old Laura Greenway looks familiar, you may have seen her on TV's 'Trust Me, I'm a Doctor' or you may have seen her on social media, or at one of her many exhibitions.
Laura is making a name for herself by raising awareness of OCD through art, and I caught up with her recently to find out all about it.
Laura became fearful of her doctors and not surprisingly, began to question her own memory. "I began to think, 'what if I don't remember?'
Laura was always aware of OCD type traits, but when asked when it all began she knows exactly. "When I was 11" she says.  "There was a clear reason why it happened."
At the age of 11, Laura began to display symptoms of a rare autoimmune syndrome. So rare in fact, it took more than two years and a number of upsetting and intrusive investigations, before her doctors could finally tell her what was wrong. The doctors questioned her closely. They often didn't believe her replies and even told her she must be wrong about her symptoms. Laura became fearful of her doctors and not surprisingly, began to question her own memory. "I began to think, 'what if I don't remember?' and that was really scary".
In that time, Laura's OCD had the chance to take hold in the form of contamination fears and compulsions. Physical symptoms of OCD came to the fore. Could her symptoms be made worse by touching towels? By catching a common cold? "I became afraid to touch anything, or sit anywhere". She then became afraid to eat or drink which led to one of two admissions to hospital.
During her second admission in 2015, a doctor asked her to keep a daily record of how she was feeling. Laura knew the best way for her to do this was through painting. "I'd always been in to art, and even when I was little, I'd say I wanted to be an artist". Each day she produced a 10cm square abstract representation of how she felt through paint and colour. For fifteen minutes every day, Laura says she was "able to really stop and think about how I was thinking", which was inspired by mindfulness practice, something she has also found helpful. Instead of trying to outrun her feelings, she was able get them down on paper.
So therapeutic was this, that Laura continued with her painting diary once she'd been discharged, eventually producing 200 small paintings; a record of her mental health journey.
But what to do with these paintings?
It seemed a shame to just hide them away, so Laura approached a number of galleries, and was able to showcase her work, together with some larger pieces, in a solo exhibition at a gallery at home in Basingstoke.
"Everything just started to happen from there." Laura knew she wanted to be an artist, and saw a way to create an understanding of mental health problems, to invite people into her head, and to show people who suffer in silence that they are not alone.
During her Masters degree in Fine Art, her interest changed to performance art. She began to volunteer for THAT Gallery, a charity run pop up art gallery, which produces art installations in unused spaces at Festival Place Shopping Centre in Basingstoke.
Laura's work has been so popular, that she now has a residency, and a regular spot every Saturday with her work taking pride of place in the window. One of her most popular pieces to date is 'Baggage', in which she hung a display of luggage tags with her own intrusive thoughts written on them and invited people to walk among them. 
Rather than explaining about her OCD, she was able to bring people directly into the world of an OCD sufferer and show them the nature baggage we carry.
The reaction she had to this was fantastic, which she says is "one of the reasons I love being part of a pop up gallery". From conversations with people who had no idea about the true nature of OCD (without the 'I'm a bit OCD' that so many of us are so used to hearing), to one person in particular, who told her "I thought I was the only one". Many people shopping in the centre are walking in and learning about OCD, and some are even travelling there solely for the art.
More recently was a striking piece of live durational art. Laura wanted to demonstrate "how frustrating and time consuming OCD can be." Her piece, 'What If?' was "7 hours in the making. I printed letter by letter my intrusive thoughts onto a 10ft roll of paper. It was long, tedious and incredibly exhausting, a process that reflected many everyday tasks with OCD."
in every way possible…I'm just so much better since I've been able to focus on my art work
So what does the future hold for Laura? She's still overcoming, her OCD, but her art helps her "in every way possible…I'm just so much better since I've been able to focus on my art work". She's able to understand and externalise her feelings more. She's found her passion, and hopes to one day create a mental health art project, where she can run programmes to help other people manage their mental health through art.
She's also visited the great city of Venice, having been selected for the Venice International Performance Art Week Summer Workshop!
"My main goal is to become a professional practicing artist, creating work that challenges people's ideas about mental health and getting it talked about and recognised within the arts."
Laura would encourage anyone to express themselves like this. "Even if you don't show anyone… You've got nothing to lose by doing art."
So why not try it?
If you'd like to see more of Laura's work, visit www.lauragreenwayart.com