For the creative amongst you, OCD-UK member Gemma, came up with the idea of OCDoodle for OCDtober!

Gemma explains in her own words. "As you know the OCD-UK logo was designed to represent OCD as it is, the 'O' and 'C' are entwined to illustrate how obsessions and compulsions cross over and are linked together. The 'C' is left slightly narrower than the 'O' to demonstrate that the obsessions are the driving force of OCD.

"But have you ever realised that you, the person affected by OCD are at the centre of it. Turn the logo on its side (image 1) and there you are."
So as part of OCDtober we want you to OCDoodle, and send it over to us so that you get to represent you and your OCD as it is, we want you to draw yourself using our logo. Draw how OCD makes you feel. Perhaps some days, maybe most days it will be a sad face, but lets celebrate the days when you are smiling, or draw yourself achieving a goal.  Using the Sketch phone app, Gemma doodled herself cooking, she told us "I have often struggled to use the kitchen and cook when OCD was bad for me."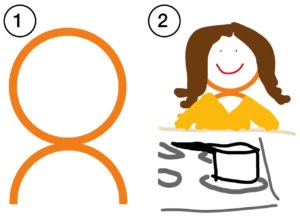 She also drew a Christmas version, her reminder that she intends to enjoy her Christmas this year, regardless of OCD!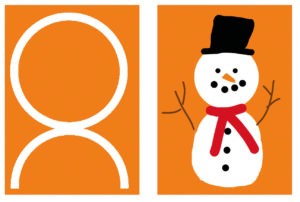 So get OCDoodling! Let's raise awareness of what it's really like to have OCD. Don't forget to share your works of art for awareness month with #OCDtober hashtag and to cc @OCDUK (Twitter and Facebook) @OCDUKcharity (Instagram) and remember to tell us what it means for you.
We will try our best to re-share and even publish them in the next OCD-UK magazine