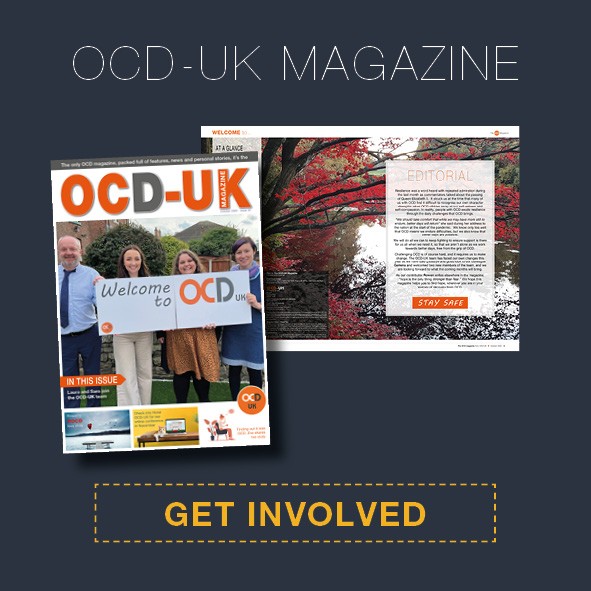 This year our members magazine will be launching a themed series of three magazines focusing on the key aspects of Obsessive-Compulsive Disorder and Cognitive Behavioural Therapy, and we need your help with contributions and ideas for the magazine.
The brainchild of our former support coordinator Gemma Blueitt, the magazines will include personal stories and will also explain and break down obsessions, compulsions and treatment. We want the set of three magazines to become practical tools to be used in your recovery, in addition to creating informative and interesting reading.
The first magazine will focus on obsessions and the cognitive aspect of CBT. Unpicking what obsessions are and how they play a part in maintaining OCD and how the cognitive aspect of therapy can help.
The subsequent two magazines towards the end of the year will look at:
Compulsive & Behavioural – Understanding how compulsions work and fuel OCD, and how the behavioural and exposure aspect of CBT can help.
Disorder & Therapy – Understanding why OCD is a disorder and exploring awareness around the condition, and how therapy can make a difference and how to access it.
For our forthcoming obsessive & cognitive edition, we are looking for contributions about how OCD obsessions currently affect you or have impacted you previously. This could be about what themes you experienced, what meanings you placed on them or how you told someone about your obsessions, which we know can be challenging in itself.  We also want to hear about how you addressed your obsessions in therapy. If you have good experiences of challenging some of the common OCD beliefs or meanings using CBT. If you faced problems when talking about your obsessions in therapy.  If you're a loved one of someone with OCD, how did you cope with first learning what OCD obsessions were, how did they make the person you care for feel or how did you feel hearing them?
Your contributions could be an article for the magazine or perhaps you feel more comfortable expressing yourself in more creative form, perhaps writing about them in storey form or through poetry or maybe even expressing yourself through art/ illustrations.  If you have any questions or wish to share your contributions then please email us at: magazine@ocduk.org.
Some guidance notes for your submissions:
All submissions must be with us by 30th June for the obsessions & Cognitive edition.  The deadlines for subsequent editions will be later in the year.
Let us know if you wish us to publish your submission with your name (in full or part) or anonymously.
You don't need to be a member to submit a contribution, and anybody sharing a submission that we publish will receive a complimentary copy of the magazine.
Maximum Word Count:  You're welcome to submit an article of any length,  but we suggest a maximum word count of around 1250 words, which would be around two and half pages in Word's default font.  However, we don't want to limit your expression, so will accept submissions that exceed this word count.
Whilst we will read all submissions, please note that we may not be able to publish all submissions due to magazine space restrictions, but we do value all your submissions and may be able to use in subsequent magazines next year.
Wherever you are on the difficult journey of tackling OCD, you can be part of the magazine and we want to hear from you!