Overview of NICE recommended treatment for OCD
One of the most commonly asked questions we get from those affected by OCD, is what treatment should I be receiving or expect to receive through the NHS?
We think this summary from the NICE Guidelines for OCD, published in 2005, explains clearly what you should expect when accessing treatment for OCD through the NHS.  The NICE guidelines are for England and Wales, but other health services across the United Kingdom will usually offer the same treatment.
It's important to remember that NICE are very clear that your choice should be taken into consideration, they state: "Your own preference is important and after a full discussion your healthcare professional should support your choice where possible."
What are the NICE Guidelines?
The National Institute for Health and Clinical Excellence (NICE) is part of the NHS and is the independent organisation responsible for providing national guidance on treatments and care for people using the NHS in England and Wales.
On the 23rd November 2005 NICE launched their set of clinical guidelines for the identification, treatment and management of OCD and BDD for children and adults.
The NICE guidance is intended for health care professionals, patients and their carers to help them make decisions about treatment and health care.  What this should do is ensure people in England and Wales are offered evidence based treatment as recommended by NICE.
The benefit for those of us affected by OCD is that we can quote the NICE recommendations when we are trying to access treatment, or being offered less therapy than recommended by NICE.
Read more on our Nice Guidelines page.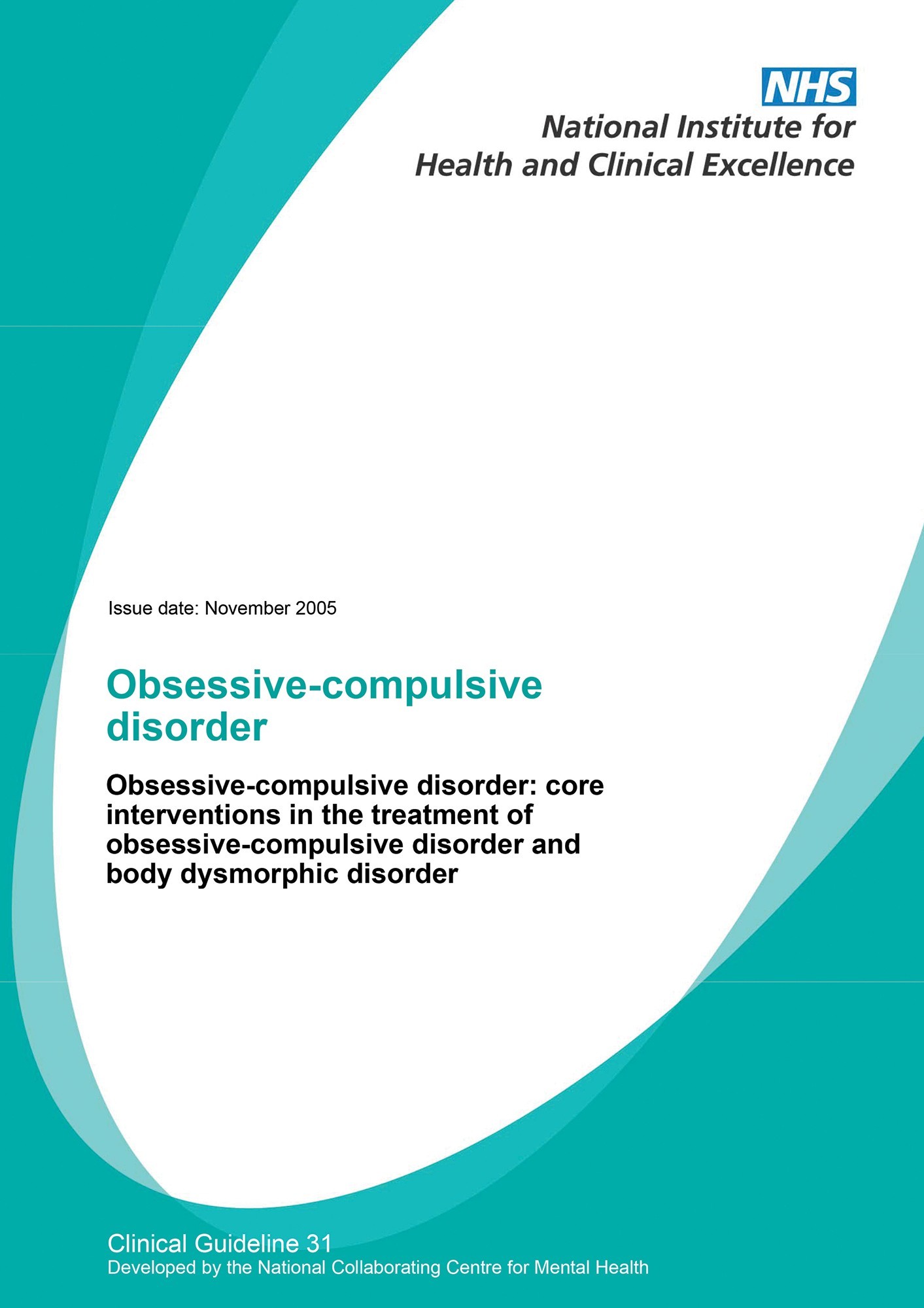 What treatment is best for me?
Taken from the Nice Guidelines 'Understanding NICE guidance – information for people with OCD or BDD, their families and carers, and the public.'
For adults
If you have OCD and your symptoms are mild
You should first be offered a psychological treatment involving ERP.  This may be one of the following:
up to 10 hours of CBT with ERP using self-help materials, such as a book, with help from a healthcare professional
up to 10 hours of CBT with ERP by telephone with a healthcare professional
a course of CBT with ERP in a group with a healthcare professional and other people with OCD.
.. then
If these treatments do not help or do not suit you, you should be offered the choice of either:
an SSRI
more than 10 hours of CBT with ERP (usually a one-to-one meeting with a therapist).
If you have OCD and your symptoms are more severe
You should be offered the choice of either:
an SSRI
more than 10 hours of CBT with ERP (usually a one-to-one meeting with a therapist).
If you have OCD and your symptoms are very severe
You should be offered combined treatment of CBT with ERP, together with an SSRI.
Following a course of therapy (sometimes just 6 sessions), pathways for the patient are not correctly followed by IAPT services, with many telling patients they have to wait a minimum of two-three months before they're allowed to request more treatment. What should happen is:
The patient should be offered a further number of CBT sessions within the same IAPT service, either with the same therapist or another therapist
The patient should be referred to secondary care services for more CBT
OCD-UK have confirmed with NHS England that this is not their directive, and treatment providers are expected to follow NICE recommendations (which is for up to 10 hours of therapy for OCD). The recently published IAPT manual (discussed below) does address this point with the following advice for commissioners (CCGs) of IAPT services:
No person should wait longer than necessary for a course of treatment. Services should work to a high-volume specification with minimal waiting times for treatment (and within national standards), as well as facilitating movement between steps.
---
We hope this summary is helpful, please do contact us should you feel your local service is not respecting these guidelines.