Described as refreshingly honest and ground breaking, 'Pure' is Channel 4's new comedy drama based on the fantastic book Pure by Rose Bretécher (pen name), which starts this evening.
I don't see dead people, I see naked people.Marnie
We loved Rose's book and we're looking forward to enjoying the series over the coming weeks. Channel 4's new drama tells Rose's OCD story through the main character of Marnie, who experiences distressing intrusive sexual thoughts. Twenty-four year old Marnie (newcomer Charly Clive) has 'bad' thoughts all the time and she can't tell anyone. Her mind is XXX-rated and intrusive thoughts are piling up inside her head. It turns out she's actually caught in the grip of an excruciating type of obsessive compulsive disorder – a form of OCD nicknamed 'pure O' – where her obsessions take the form of intrusive thoughts, often sexual.
With preview content in the clip above "I don't see dead people, I see naked people" it is unsurprising that some of the media coverage has overly focussed on the adult themed thoughts, generating headlines like, "Sex-obsessed woman saw vaginas everywhere – but watching PORN cured her".  This is great copy virtually guarantees coverage from the national newspapers, but opportunities to fully educate with the press features have been lost with some unhelpful and misleading descriptions of Pure O within the press coverage.
So, we're going to do our best to dispel a few myths and educate our readers on the subject…
CLAIMS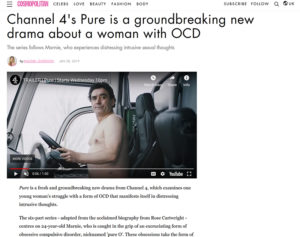 Mental health charity Mind says: "If you have Pure O you will still experience mental compulsions – but you might not be aware of them. Because they are not as obvious as physical compulsions it can sometimes be difficult to define exactly what these compulsions are."Cosmopolitan
Pure O is called this because the compulsions are usually invisible, and not acted out in the better-known ways such as hand washing and counting out loud.The Sun
The Pure O stands for 'purely obsessional' and while sufferers often also have the better-known symptoms of OCD, such as compulsive checking, this strand of the illness often focuses on intrusive and distressing thoughts rather than actions.Daily Mail
According to the mental health charity Mind, people with Pure O show "no external signs of compulsions" such as checking and washing, but they still experience mental compulsions: for example checking their emotions or checking whether they are aroused by a particular intrusive thought.Radio Times
Because the premise of Pure is that our heroine has a condition known as "Pure O", in which someone has all the obsessive without the compulsions.GQ Magazine
FACT
Pure O is like every other form of OCD in that compulsions will exist, but they are not limited to just being mental compulsions. In our experience those with Pure O will typically have one or more of the following external/physical compulsive behaviours.
Watching adult films to check for body sensations
Checking phone for reassurance
Seeking reassurance from loved ones or friends
Physically avoiding people, places or objects that trigger obsessions
This is why the term Pure O is imprecise and unhelpful, because it may prevent those suffering recognising their own compulsive behaviours. Such misinformation could hinder recovery, which is why OCD-UK avoid using the term Pure O when talking about Obsessive-Compulsive Disorder.
CLAIM
Although most people experience fleeting unwanted thoughts from time to time, they are able to dismiss them as uncomfortable and move on. Sufferers of Pure O, on the other hand, become anxious about these thoughts and can begin to obsess over them, unable to get them out of their head.  Pure O, therefore, is not the experience of having intrusive thoughts – but the reaction to them and the inability to make them go away.
Radio Times
FACT
If they replaced the words Pure O with OCD in this text, this would be a perfect description of OCD.  Pure O is not a medically recognised term and unfortunately this article fails to recognise that unwanted intrusive thoughts are common in every single person suffering with Obsessive Compulsive Disorder.
CLAIM
Exposure therapy is "remarkably effective" in treating OCD, according to the Intrusive Thoughts site. Radio Times
FACT
Exposure therapy can help but some therapists don't always address the interpretations the person applies to the intrusive thought, failure to do that can lead to relapses over time. Cognitive Behavioural Therapy (which can include ERP) is the recommended treatment for OCD here in the UK.
CLAIM
Rose Cartwright suffers from purely obsessional OCD – called pure O – which sees sufferers having repetitive thoughts about sex.
Daily Mirror
FACT
Whilst some people with what some call Pure O do have unwanted intrusive thoughts about sex, many other sufferers experience intrusive thoughts which are focussed on other subjects.
CLAIM
The condition is believed to affect around 630,000 people in the UK alone.
Daily Mirror
FACT
This figure is closer to the number suffering with Obsessive-Compulsive Disorder, not specifically Pure O.   It's estimated that 1.2% of the population will be suffering from OCD, which based off estimates for the UK population means approximately 792,000. Many of those people will be experiencing unwanted intrusive thoughts, although not specifically sexual thoughts.
The NICE guidelines reported that only 5.5% of sufferers have obsessions related to sexual thoughts and 4.3% have obsessions related to the fear of harming someone. These topics are the commonly accepted focus of Pure O, which would mean approximately 77,616 people might have what some people call Pure O.
CLAIM
It's thought that due to the secretive nature of it many people suffer in silence.
The Sun
FACT
This is true and it's perhaps more common but not unique to people experiencing unwanted intrusive thoughts around sexual obsessions. The fact is that it's not uncommon for people with all types of OCD to suffer in silence because they fear being labelled, ridiculed or embarrassed.
CLAIM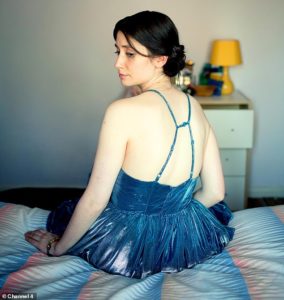 Pure O sufferers are unlikely to be cured completely.
Daily Mail
FACT
What is true to say is that everybody experiences unwanted intrusive thoughts, this includes people that don't suffer with OCD and people with OCD, but intrusive thoughts can be positive not just negative, so the truth is we can never get rid of unwanted intrusive thoughts.
The focus of overcoming OCD should not be solely about preventing the intrusive thoughts, but in fact changing our emotional and physical response to those thoughts. If the intrusive thoughts no longer cause anxiety or lead to any kind of physical or mental compulsions then the person would no longer be diagnosed with OCD…call it recovered/cured/restoration of health (the definition of cure).
Whilst recovery can be difficult to achieve due to a lack of access to effective therapy, the fact is with the right support and treatment some people can and do completely recover from OCD, without relapse, recovery is possible.
What is Pure O?
For further information about Pure O, please visit our webpage on the subject here.
Article Sources:
Cosmopolitan
Daily Mail
Daily Mirror
Radio Times
The Sun
GQ Magazine