The treatment recommend by the NHS in England is Cognitive Behavioural Therapy (CBT), as recommended by the NICE Guidelines for the treatment of OCD. However, how people access CBT through the NHS is a complex, confusing and often challenging pathway.
In England, healthcare services, including mental health, are managed by Clinical Commissioning Groups (CCGs), who are responsible for the planning and commissioning of  NHS services in the local areas for which they are responsible.  Clinical Commissioning Groups replaced Primary Care Trusts on 1 April 2013. There are currently 195 CCGs in England.
Accessing Treatment
There are two routes to accessing OCD treatment (CBT) in England. The first route is to  speak to your GP and ask to be referred for treatment. A GP will usually  refer you to your local Improving Access to Psychological Therapies (IAPT) service (pronounced eye-apt).  The second route is to self-refer directly to your chosen IAPT service (England only) without having to see or speak to your GP.
Before we explain these treatment access steps, we will try and illustrate the process using this flowchart. For an explanation on the differences between primary, secondary and tertiary services please go back to the last page on accessing treatment through the NHS.
The illustration below is a basic outline of the route patients usually take in accessing OCD treatment, starting with their GP, although there may be some local variations within each service.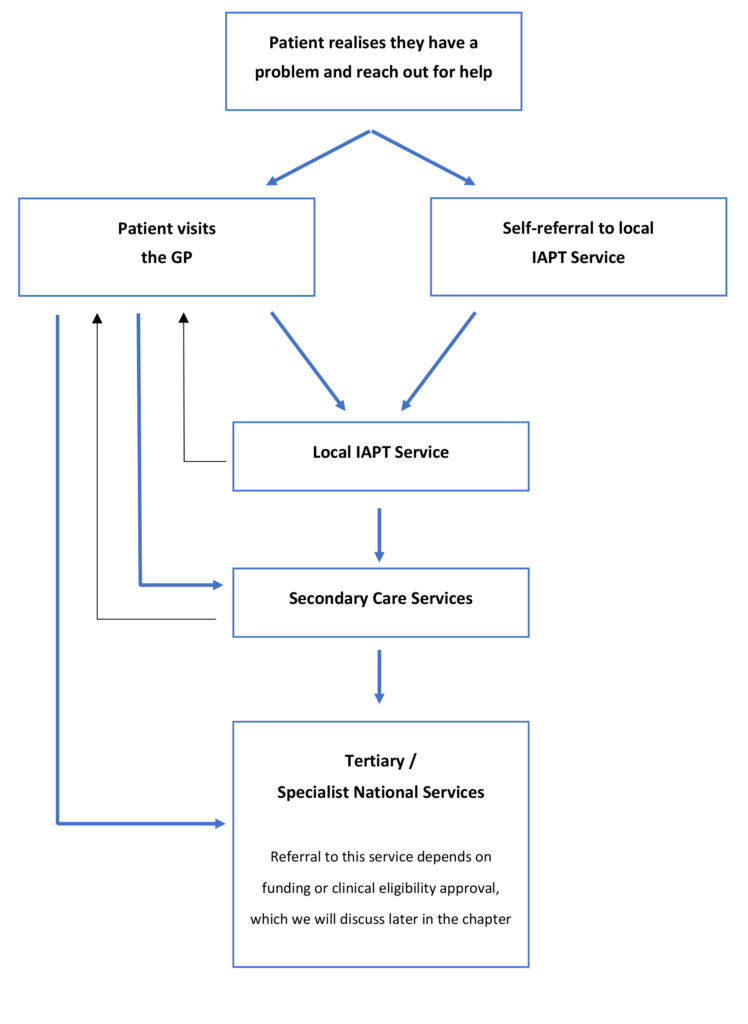 Route 1 – GP > Primary Care
Despite the breakthroughs in awareness, understanding and treatment of OCD, many GPs and mental health professionals still do not recognise the symptoms of the disorder or even know how to correctly treat it.  Therefore, we encourage you to be specific and clear when telling your GP that you "believe you may (or do) have OCD and would like to be referred for Cognitive Behavioural Therapy (CBT)".
Sometimes people are worried about opening up about their OCD, so if you're reticent about opening up to your GP, we have created a GP Ice-Breaker printout to help you during that first visit, which can also be used when you first see a mental health professional.
Although  medication is not recommended as a sole treatment method for OCD,  in practice many people will be offered it when on long waiting lists for therapy.  If this happens, it is your choice whether to accept the medication, some people find it helps keep them afloat whilst waiting for therapy.
The GP should refer you for therapy (CBT), usually to your local Improving Access to Psychological Therapies (IAPT) service (you can ask to be referred to the IAPT service nearest your place of work implementing your 'right to choose' which we discuss further down the page). At this point the patient is in the hands of the IAPT service in terms of treatment waiting times.
Before accessing any kind of treatment it's worth considering what you can do to prepare for therapy, and also review some of the potential barriers for treatment.
If you're a parent of a child with OCD the same process applies, other than instead of adult services,  the GP will refer your child to local CAMHS services (pronounced CAMS), with CAMHS standing for Child and Adolescent Mental Health Service.
Route 2 – IAPT self-referral
The local NHS psychological treatment will be provided by the local Improving Access to Psychological Therapies (IAPT) service. Local NHS CCGs commission a provider (sometimes more than one) to offer IAPT services to their local residents.  IAPT services were introduced to improve access to psychological therapies (like CBT) for people with anxiety disorders, including OCD and depression.
In most parts of England patients can refer themselves directly to their local IAPT service, a process called self-referral, what this process does is it cuts out the need to see a GP.  This can be helpful because  it saves time having to wait to see a GP and for patients who have people they know working at their GP surgery, or for those whose GP surgery is in a small tight community, there can be apprehension that in presenting to their GP, the entire community might find out they have OCD, so self-referral allows the patient to bypass having to visit their GP surgery and therefore access therapy.
Once a person self-refers they should be offered a series of treatments including CBT.
Who do I self-refer to?
Unfortunately  this is not straight forward for two reasons.
Rather than name each local IAPT service 'Nottingham IAPT' or 'Derby IAPT', which would make life much easier, each local IAPT service chose their own unique service name, for example Healthy Minds, Let's Talk, Inclusion Matters etc.  So unless you happen to know the name of your local IAPT service, you will need to search for it.
There is no easy way to search for local IAPT services. Somewhat inexplicably there is no accurate NHS database of IAPT services. The database for psychological services that should be searchable was passed to the NHS Choices website, but the responsibility for updating local entries falls to each local Clinical Commissioning Group (CCG) and many of them have failed to accurately maintain records, so  searching for accurate results is a lottery.  In June 2018 OCD-UK liaised directly with the national IAPT team and NHS England and we believe that the database problem will be rectified shortly.
Back in September 2016, OCD-UK spent thousands of pounds in time and resource to create a clickable map of every single IAPT service in England.
To use the database you will need your postcode or town name to search for your local service, or simply zoom into the Google map and click the town where you live.  When you click on a location or enter your postcode, it will display the local IAPT service name and contact details in a pane to the left of the map.
How do I self-refer?
There are two ways to self-refer either by calling  or directly through the service's website.  When you self-refer to your local NHS therapy service through the telephone you simply need to tell them "you think you have OCD and want to self-refer for CBT treatment", the person you talk to will arrange to send you some forms to complete your referral. Self-referring online allows you to speed up the process by completing those forms online.
Once the referral forms are returned, the IAPT service should call within 2-4 weeks to arrange a telephone assessment, which will take about an hour.  Following the telephone assessment, you will then be placed on the waiting list for CBT, which sadly can be anything from 4 weeks to several months.  During your telephone assessment you should ask roughly how long the waiting time is in your area.
Routes 1 and 2 combine once referral is made
Once you have been referred either by self-referral or by your GP, at this point the treatment pathway route is the same, it will be the same therapy service providing CBT regardless of how you got there.
What happens after a course of IAPT therapy?
Now this is where it gets even more complicated and also controversial.
We're being told by many of our users that when they receive CBT through local IAPT services they're being offered anything from 6 to 18 sessions.  Whilst for some people that may be sufficient, if the patient needs more support, they should either:
Be offered further CBT sessions within the same IAPT service, either with the same therapist or another therapist
Be referred to secondary care services for more CBT
But instead what is happening is that in many cases people are being told that they are either not eligible for more treatment or they cannot have any more for at least three months, having to refer back again after three months. OCD-UK have confirmed with NHS England that this is not their directive, and treatment providers are expected to follow NICE recommendations (which is for up to 10 hours of therapy).
So what happens next…
For many people with OCD, the level of treatment and support they receive through their local IAPT service will be sufficient and allow them to make progress and move towards recovery. But for some, they may need more therapy over a longer period, perhaps a little more intensive, so you may be referred to local secondary care services.
Secondary Care > Specialist Services
Accessing secondary care services requires either a referral from a GP or in some cases, the primary care IAPT service will refer you straight to the relevant service. This can mean a break in treatment between services.  Sometimes a GP may feel a patient will benefit more from this level of treatment and refer you directly to secondary care services.
Treatment within secondary care services will not be dissimilar from what you've experienced previously, the key difference being that these are usually consultant-led services, which include psychology and psychiatry. They may offer additional services like prolonged therapy with a clinical psychologist, medication reviews with a psychiatrist, access to training and other facilities. The course of treatment is likely to be less time restricted than in primary care, allowing patients more time to work on their problems.
For a small number of people, local services may not be enough to help them make sufficient progress and may benefit from a referral to a specialist OCD service, sometimes called ter
(Tertiary) National Specialist Services
There are several specialist OCD treatment clinics in England which offer treatment ranging from specialist outpatient to inpatient treatment services.  There are two ways to access those specialist clinics, the first is for your local Clinical Commissioning Group to agree to fund a referral. The second is if the patient meets national clinical criteria, then funding can come directly from NHS England, meaning you don't have to fight your local CCG to fund the treatment.  We provide more details about those specialist OCD clinics, where they're located and what they offer later in this section.
Right to Choose
In England, patients now have the right to choose their treatment provider (not the actual treatment, but the NHS treatment provider).   This can be helpful for a few reasons.
The patient may wish to access treatment closer to work than their home location.
The patient may know a neighbouring region has a better track record of treating OCD or a shorter waiting list for CBT.
In order to implement your 'right to choose', you must not already be receiving treatment for OCD and you cannot self-refer, instead you must go through your GP to discuss the right to choose implementation. This applies for both primary and secondary care treatment.
You can read more about your right to choose later in this section.
What to read next:
---
---