Through the publishing of our annual review and accounts, OCD-UK is committed to providing an open and transparent review of our work and finances.
Our annual report provides us with the opportunity to present to you, an overview of our yearly achievements, a transparent summary of our income and expenditure, and how we have worked to try and make positive change in the lives of children and adults affected by Obsessive-Compulsive Disorder.
You can read our latest annual report, including our financial statements for the year ending December 31st 2021 by clicking the image below.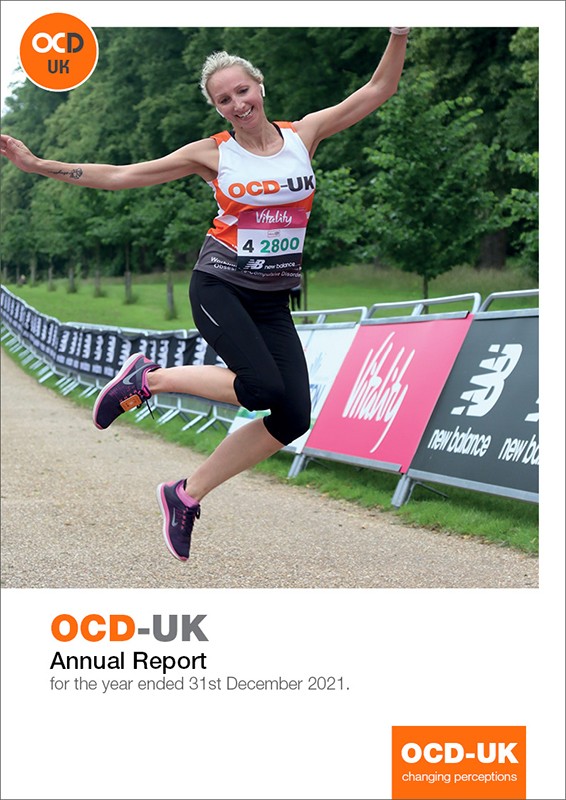 The Annual Report contains statements from our Chair, Catherine Mills and Chief Executive, Ashley Fulwood and their outlook for the year ahead. It also includes our income and expenditure, information on our governance, structure and management and our audited statement of financial activities. Our accounts are a requirement of the Charity Commission, and have to be independently audited each year, and we are delighted to report that our latest set of audited accounts for the year ending 2018 were once again credited by our independent accountant to be in good financial shape in terms of reporting and preparation.
We are indebted to the support of Eric O'Connor and Jon Gosden from Nicholson Tax & Accounts, Derbyshire for independently reviewing and the preparation of our annual accounts. Prior to that by Steve Collings of LWA Accountants for preparing our accounts since 2013 until 2016 and Mr Owen Hamnett up until 2012.
You can also read our annual accounts and reports from previous years below.
Financial Year End (FYE)
Income
Spending
Surplus or Deficit
Accounts
Annual
Report
31st December 2022 *
£138,633
£163,870

-£25,237

To follow
To follow
31st December 2021
£229,664
£169,006
+£60,658
View
View
31st December 2020
£226,291
£160,991
+£65,300
View
View
31st December 2019
£137,479
£113,344
+£24,135
View
View
31st December 2018
£88,263
£102,164

-£13,901

View
View
31st December 2017
£80,978
£92,595

-£11,617

View
View
31st December 2016
£81,099
£90,925

-£9,826

View
View
31st December 2015
£125,012
£102,398
+£22,614
View
View
31st December 2014
£116,359
£135,487

-£19,128

View
View
31st December 2013
£118,188
£92,857
+£25,331
View
View
31st December 2012
£105,840
£89,648
+£16,192
View
View
* – These are draft accounts and will not be confirmed until our independent accountant checks and confirms the accounts.
---
The difference we make…
I greatly value being a member of OCD-UK – your magazine and the webinars are brilliant sources of help and advice; especially the last webinar, which was brilliant and helped me far more than my six sessions of therapy did!Morna